BCIPA Statistical update: November 2015
November saw 21 adjudication decisions published and released under the Building and Construction Industry Payments Act (BCIPA) in Queensland via the Queensland Building and Construction Commission (QBCC).
The total amount claimed by claimants in adjudication applications released during November approximated $3.7 million, whereas the total amount adjudicated to be due by respondents to claimants amounted to approximately $1.6 million, meaning roughly 43% of the amount claimed was released under adjudication.
The average amount claimed was approximately $180,000 whereas the average adjudicated amount came to approximately $76,000.
Data Collection Methodology
A quick note on statistical collection methodology. The ABC DRS collect information on payment claim amounts and adjudicated amount from the decisions published during a month via the QBCC decision search function. ABC DRS manually view all adjudication decisions published in a given month and collect these pieces of data. All amounts are adjusted to include GST where necessary and appropriate.
The ABC DRS make no guarantee as to the 100% accuracy of this data and this information should be used for educational purposes only.
The QBCC also provide statistical monthly updates which can be accessed via their website and used as a source of corroborating information.
Claimed amount v adjudicated amount by claim range
Chart 1 below gives further detail into the breakdown of the ratio between payment claim amount and adjudicated amount by payment claim range.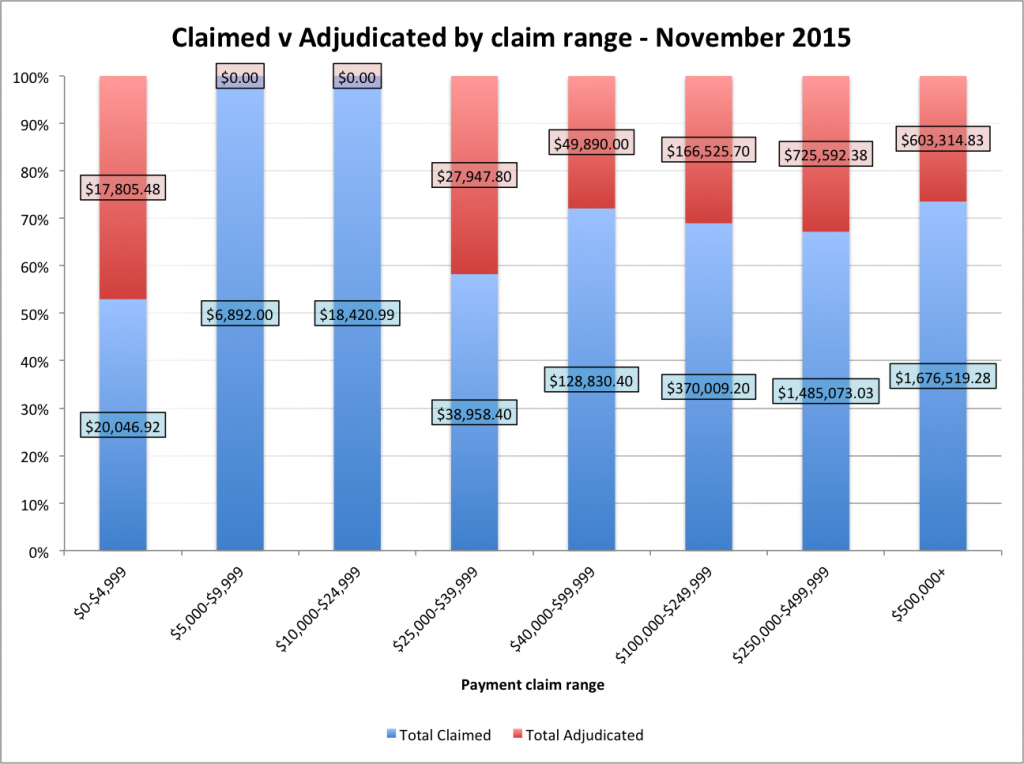 Claimed amount v adjudicated amount – 2015 trend
Chart 2 below gives detail of the claimed amount versus adjudicated amount over the course of 2015.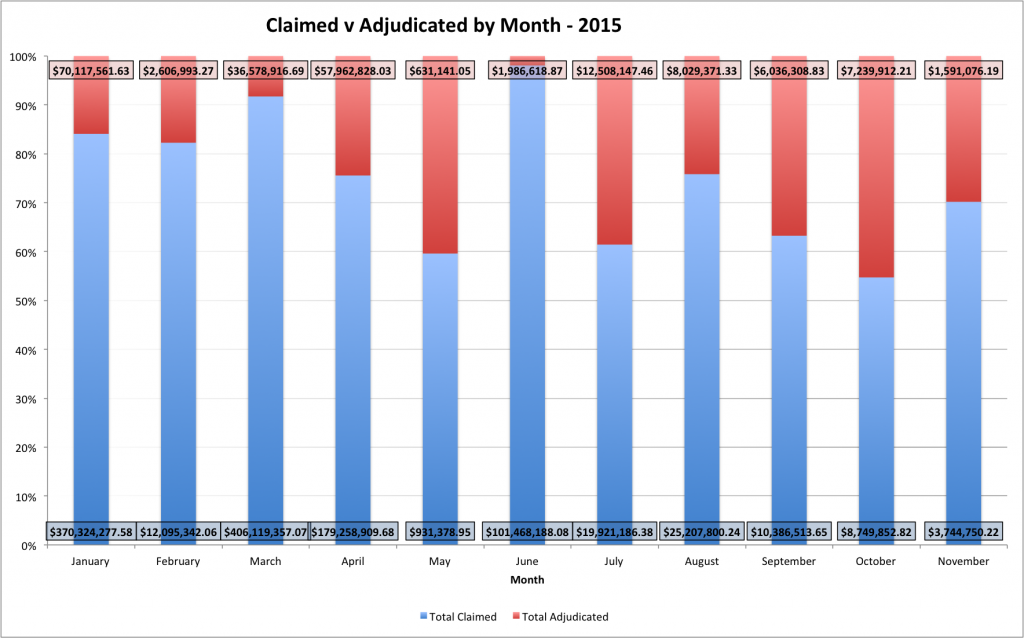 Want to know more?
Feel free to get in contact with the ABC DRS regarding the above information or if you would like to know more about how BCIPA operates in Queensland or of training opportunities in security of payment.
* ABC DRS acknowledge that occasionally the QBCC release decisions for a given month some time after the month has ended. The figure of 21 adjudications is correct as at 1 December 2015 however may change in the future.